This case study reveals how our 3-step system helped this Chiropractic clinic owner generate an additional $25,200 in additional revenue in Less Than 30 Days 👇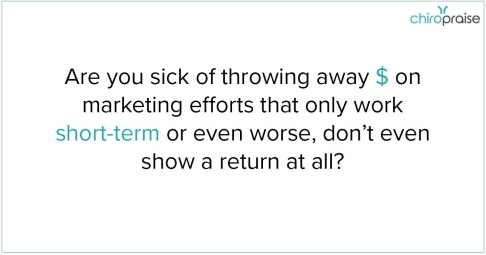 LEARN HOW TO SCHEDULE NEW PATIENTS VS "LEADS" AND GET THEM TO SHOW UP - EVERY MONTH!



Inconsistent New Patient Growth
Wasted Energy with No-Show "Leads" vs New Patients
Over the past 6 years working with 200+ Chiropractic practices,
we've seen the docs consistently make the same 3 mistakes that lead to...



Countless nights/weekends away from the fam running in-person events and talks
And now we've packaged up what we've learned and are sharing how to generate results like Dr. Kris talks about in the video below...

" They have driven a lot of traffic my direction. Overall I am very happy with my decision and would definitely recommend them to anyone who I don't directly compete with."
"I would say our new patients have probably doubled and our PVA is increasing."
" I'm really enjoying the freedom of knowing that the phones are ringing without me beating the streets."



Curious how this may IMPACT your practice?